meet a pro bono partner
Rebekah Sills
Litigation Associate
Kirkland & Ellis LLP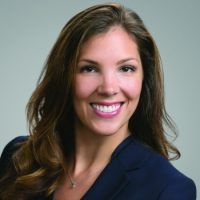 Q:

Why did you join Tahirih's Pro Bono Network?

A:

I have wanted to join Tahirih's Pro Bono Network ever since I was practicing law in New York. I was so pleased to learn that Kirkland's Houston office had a relationship with Tahirih. I took the first case that I could. Ending gender-based violence is something I have been passionate about since college, and I am grateful to follow that passion in my legal career.



Q:

Share a highlight from a pro bono case with Tahirih.

A:

The highlight of these cases is the client interaction. There's nothing quite like being on the receiving end of a client's gratitude for your assistance.



Q:

How has your pro bono service impacted you?

A:

Listening to my client's story and helping her tell it has made me a more compassionate human being. No one should be subjected to the suffering that she and her children have endured. I am a better lawyer, a better citizen, and a better person because of my work with Tahirih and I am so grateful for the opportunity to help.

Do Something!

Please join us as a pro bono partner or volunteer today! Your time and talents can truly make a difference.
meet more pro bono partners
---
Staff Attorney

Richards Kibbee & Orbe

It has been humbling to work with a client who, despite extreme hardship in her past, has been able to increasingly open up to me.

Associate Attorney

Baker & McKenzie LLP

The women and children I've worked with over the years inspire me to take on new cases.

Realizing the impact of the case's outcome not just for our client but for her son, shows how these cases can be completely life changing for a family's future.