As the Forced Marriage Initiative celebrates its 10 Year Anniversary at the Tahirih Justice Center, we want to recognize the incredible members of the national Forced Marriage Working Group.
Founded in 2011, the Forced Marriage Working Group is facilitated by the Tahirih Justice Center. The group was formed as a response to the need for those of us witnessing survivors facing barriers to services to come together, learn from one another, and galvanize a national response to the issue of forced marriage in the United States.
Our goal is to end the root causes of forced marriage through education, outreach and transformation to ensure a safer and healthier world for all. Our focus is on safety and justice for survivors, not on criminalizing or condemning families and communities. We believe in the possibilities of our communities. Through our work we seek to strengthen and uplift while addressing practices that can be harmful.
The Forced Marriage Working Group is a core group of experts and advocates, including survivors, committed to contributing to efforts to address the problem of forced marriage in the U.S. The Working Group is an inclusive forum that welcomes, values, and respects diverse perspectives and voices. It is a platform to share knowledge, explore challenges, brainstorm ideas, solve problems, identify collaboration opportunities, and engage in constructive dialogue about best practices.
Members include community-based programs as well as national and international organizations who collectively provide direct legal and social services, engage in education and outreach, research, advocacy, and technical assistance.
Some member organizations have a specific focus on forced marriage, while others have a broader focus on domestic violence, sexual assault, and other forms of gender-based violence; some work within and alongside one community or across many communities. The Working Group's breadth mirrors the diverse impact that forced marriage has on families and communities in or from the U.S., and reflects our shared commitment to improve protections and support for all survivors.
Throughout 2020, the FMI led the National Forced Marriage Working Group through an intentional and inclusive transformative process, relaunching the group under new, collaboratively drafted principles, expectations, and community agreements. Our new principals are aimed at increasing organizational collaboration on outreach, training and community change work grounded in anti-racism and anti-oppression.
We are deeply grateful to all of the members of the Forced Marriage Working Group for their years of collaboration and thought partnership and we look forward to many more years of working together – meeting challenges and serving survivors side by side with these incredible organizations:
Apna Ghar (Our Home)
Arab American Family Services
Arab-American Family Support Center
ASHA for Women
Asian Pacific Institute on Gender Based Violence
Daya Inc.
Gangashakti
Manavi
Muslims for Progressive Values
Narika
National Center for Victims of Crime
National Domestic Violence Hotline
National Network to End Domestic Violence
National Resource Center on Domestic Violence
Peaceful Families Project
Raksha, Inc
Sakhi for South Asian Women
Sanctuary for Families
Sauti Yetu
Tahirih Justice Center
Texas Muslim Women's Foundation
There Is No Limit Foundation
Womankind 
Below we have highlighted the work of some of our amazing Forced Marriage Working Group partners!
Arab-American Family Support Center

The Arab-American Family Support Center (AAFSC) is a Brooklyn-based nonprofit organization that provides social services to immigrants and refugees across New York City. For over 26 years, AAFSC has provided multigenerational services to New York City's immigrant, refugee, and low-income families, including English lessons, college and career pathways for youth, preventive and anti-violence services, and mental health support. Collectively, AAFSC's staff members speak 27 languages and they are extending their reach across the city's diverse communities. As a settlement house, the agency strives to be geographically embedded in the communities that they serve which translates to better, real-time understanding of community challenges.
Through their Anti-Violence Program, they are committed to ending partner violence, creating equitable relationships, and revolutionizing gendered discussions to support victims and survivors of gender-based violence.
Asian Pacific Institute on Gender Based Violence (APIGBV)

Based in Oakland, California, the Asian Pacific Institute on Gender-Based Violence is a national resource center on domestic violence, sexual violence, trafficking, and other forms of gender-based violence in Asian/Asian-American and Pacific Islander (AAPI) communities. They envision a world free of gender-based violence for communities with equal opportunities for all to thrive. Their mission is to disrupt gender-based violence, which causes physical, sexual, emotional, spiritual and economic harm within AAPI communities throughout the U.S. and its territories.
Muslims for Progressive Values


MPV is a progressive Muslim voice on contemporary issues. They voice their perspectives with policy briefs, by participating in civil discourse and advocate for human rights, social justice and inclusion in the United States and around the world. They are creating a culture rooted in human rights in Muslim Societies.
"Since marriage in Islam is between two consenting adults of sound mind, then forced and child marriage is a bastardized interpretation of the faith."-Ani Zonneveld, Founder, President – Muslims for Progressive Values
Peaceful Families Project

The Peaceful Families Project mission is to work towards preventing all types of abuse in Muslim families by increasing awareness regarding the dynamics of domestic violence. They believe that a better understanding of religious and cultural values can be used as a resource to prevent domestic violence, and that religion and culture should never be used to justify abusive behavior. Through education and training, they seek to promote attitudes and beliefs that emphasize justice, freedom from oppression, and family harmony. ​
Sakhi for South Asian Women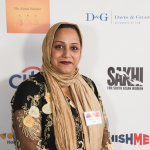 Sakhi for South Asian Women exists to represent the South Asian diaspora in a survivor-led movement for gender-justice and to honor the collective and inherent power of all survivors of violence. Sakhi is committed to serving survivors through a combination of efforts including—but not limited to—direct services, advocacy and organizing, technical assistance, and community outreach. Sakhi works with the South Asian community in New York City.
Sakhi provides support to anyone who has experienced forced marriage or is seeking more information on forced marriages. Forced marriage refers to a marriage in which at least one person did not consent to the union. Tactics such as fear, guilt, fraud, or shaming are often used to coerce a person into marriage. Sakhi's helpline can be reached Monday-Friday, 10:00 a.m. – 5:00 p.m. ET at 212-868-6741; by text at 305-697-2544; and via email [email protected].
Sanctuary for Families

Sanctuary for Families has been at the forefront of providing comprehensive trauma informed services in New York City to survivors of forced marriage in a culturally competent manner.  Survivors of forced marriage often experience significant trauma and symptoms that impact their functioning. This is frequently compounded by family dynamics and community pressures, as well as by fears of cultural biases by those outside their communities. Their trauma focused approach ─ using culturally sensitive best practices, helps clients feel validated, respected, and informed. Attorneys, clinicians, and case managers also work closely to assess and develop a comprehensive intervention plan to address the high needs of forced marriage survivors and those at risk. Legal and/or clinical intakes are conducted during the first meeting with the client which allows Sanctuary staff to determine urgent needs and address them early on through safety planning, appropriate referrals, and close coordination between legal and clinical staff. With a holistic and collaborative approach including both social workers and attorneys, as well as community-based organizations, assist children and young people in forced marriage situations through a coordinated response. Over the last few years, Sanctuary staff have trained outside service providers on the issue of forced marriage both locally in NYC and nationally at conferences.
There is No Limit Foundation

The There Is No Limit Foundation's mission is to ensure people, especially women and children, live in dignity and security while reaching their full socio-economic potential. Their advocacy work has reached over 10 million people and 35,000 people have benefitted from their programs. Their work has been featured in The Guardian, The New York Times, PBS, RFI, Brut and Deutsche Welle just to name a few!
WomanKind

Womankind uses the multidimensionality of its Asian heritage to work alongside survivors of gender-based violence as they build a path to healing. WomanKind is working tirelessly to create a future where we and communities can innovate towards collective well-being, restoration, and social justice.