Searching for a meaningful book to add to your reading list?
This unforgettable memoir chronicles Fauziya Kassindja's awe-inspiring journey to justice.
At the age of 17, Fauziya fled the only home she had ever known in Togo and sought asylum in the United States to avoid a forced marriage to a man with three wives and a procedure that could kill her or bring her lifelong pain — female genital mutilation/cutting.
Instead of receiving a hero's welcome in the United States, Fauziya was imprisoned in maximum-security detention centers for nearly two years, where she was shackled, strip-searched, and held in isolation. As a law student at American University, Layli Miller-Muro helped bring Fauziya's case to the highest immigration court in the nation.
On June 13, 1996, Fauziya won asylum, setting legal precedent for women and girls to seek asylum in the United States on the basis of gender-based persecution.
More than twenty years have passed since her arduous legal journey came to a groundbreaking close. In celebration of the progress that has been made in the pursuit of justice and equality for women and girls and in contemplation of the work that remains to realize the goal, we encourage you to read this inspiring story – where it all began.
How can I celebrate Fauziya's victory?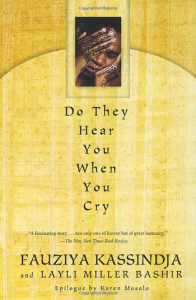 We invite you to read Fauziya's memoir, "Do They Hear You When You Cry," which she co-wrote with Layli. Using all her proceeds from the book, Layli founded the Tahirih Justice Center one year after Fauziya's legal victory to bring justice to courageous women and girls like her who faced insurmountable odds without legal representation in our faltering asylum system.
Please don't stop by simply adding this incredible book to your reading list.
Invite your friends to read the book with you. Instead of book club membership fees, ask your book club members to make a donation to Tahirih. Once you've finished the book, get together and talk about it, using Layli's 20th Anniversary Book Discussion Questions. You can start your own book club web page and ask for donations right here.
How will Tahirih Use the Proceeds from My Book Club?
There is more need for Tahirih's life-changing programs than ever before — a staggering 59.5 million people around the world are forcibly displaced from their homes, and we're facing a refugee crisis of a magnitude unseen since World War II.
Women and girls are disproportionately affected, and right now, Tahirih can only protect 1 in 10 women who reach out to us for help.
Readers like you, who accept our reading challenge, will help us reverse this heartbreaking fact. Every $1 you raise will change the future for survivors and go to our Building Bridges to Safety Campaign. Your action at this extraordinary moment in history is creating a world where all women and girls live with equality and dignity.
WHAT RESOURCES CAN MY BOOK CLUB USE?
PRAISE FOR "DO THEY HEAR YOU WHEN YOU CRY"
"Moving and powerful though this story is, it exposes such unremittingly grim truths that is impossible to close the book and feel at peace."
— Newsweek
"A fast-paced, can't-put-it-down book — shock, heartbreaking, and inspiring."
— Booklist
"This riveting story is essential reading for anyone concerned about human rights, about U.S. immigration policy, and about making America a country of liberty and justice for all."
— Sara Paretsky, author of Ghost Country
Listen to how "Do They Hear You When You Cry" Changed the Course of This Attorney's Life
Start My Fundraising Book Club Today
Download Layli's Book Club Questions
— #SheSoars, #WeSoar —