Add This Book to Your Summer Reading List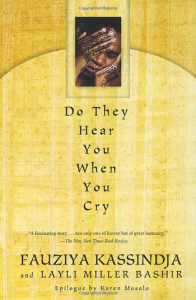 At the age of 17, Fauziya Kassindja fled the only home she had ever known in Togo and sought asylum in the United States to avoid a forced marriage to a man with three wives and a procedure that could kill her or bring her lifelong pain — female genital mutilation/cutting.
Instead of receiving a hero's welcome in the United States, Fauziya was imprisoned in maximum-security detention centers for nearly two years, where she was shackled, strip-searched, and held in isolation. As a law student at American University, Layli Miller-Muro helped bring Fauziya's case to the highest immigration court in the nation.
On June 13, 1996, Fauziya won asylum, setting legal precedent for women and girls to seek asylum in the United States on the basis of gender-based persecution.
Tragically, 20 years after Fauziya's seminal victory, thousands of women seeking asylum are still unable to find legal representation, imprisoned, and deported back to violence. In 2014, the Obama Administration dramatically expanded the practice of jailing refugee women and children seeking protection at U.S. borders. Most recently, county commissioners in San Diego authorized negotiations with the Department of Homeland Security to open a new family detention center in California.
In the face of such monumental setbacks, it is more important than ever to keep Fauziya's legacy alive. You can help by responding to this three-step action alert:
Celebrate the 20th anniversary of Fauziya's victory by reading her memoir, "Do They Hear You When You Cry," which she co-wrote with Tahirih Justice Center Founder Layli Miller-Muro. Using all of her proceeds from the book, Layli founded Tahirih one year after Fauziya's legal victory to bring justice to immigrant women and girls fleeing violence.
Invite your friends to read the book with you.
Start a fundraising website for your book club and ask each member to make a donation through the page. Get started right here.
YOUR ACTION WILL BRING JUSTICE TO HEROES
There is more need for Tahirih's lifesaving programs than ever before — a staggering 59.5 million people around the world are forcibly displaced from their homes, and we're facing a refugee crisis of a magnitude unseen since World War II.
Women and girls are disproportionately affected, and right now, Tahirih Justice Center can only protect 1 in 4 women who reach out to us for help.
Readers like you, who accept our summer reading challenge, will help us reverse this heartbreaking fact. Every $1 you raise will change the future for survivors and go to our $10M Ready to Soar Expansion Campaign.
We have already raised $6.5 million! But we need the help of compassionate people like you to raise an additional $3.5 million to open two new offices and serve 250% more women and girls like Fauziya by 2017.

THREE RESOURCES FOR YOUR BOOK CLUB
Start My Fundraising Book Club Today