Map Unavailable
Date/Time
Date(s) - June 13, 2016
All Day
Categories
Fauziya's Victory
At the age of 17, Fauziya Kassindja fled the only home she had ever known in Togo and sought asylum in the United States to avoid a forced marriage to a man with three wives and a procedure that could kill her or bring her lifelong pain — female genital mutilation/cutting.
Instead of receiving a hero's welcome in the United States, Fauziya was imprisoned in maximum-security detention centers for nearly two years, where she was shackled, strip-searched, and held in isolation. As a law student at American University, Layli Miller-Muro helped bring Fauziya's case to the highest immigration court in the nation.
On June 13, 1996, Fauziya won asylum, setting legal precedent for women and girls to seek asylum in the United States on the basis of gender-based persecution.

How can I celebrate the 20th Anniversary of Fauziya's victory?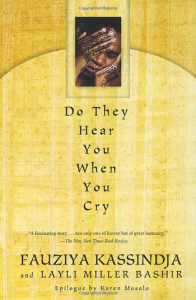 This summer, we invite you to read Fauziya's memoir, "Do They Hear You When You Cry," which she co-wrote with Layli. Using all her proceeds from the book, Layli founded Tahirih Justice Center one year after Fauziya's legal victory to bring justice to courageous women and girls like her who faced insurmountable odds without legal representation in our faltering asylum system.
Please don't stop by simply adding this incredible book to your summer reading list.
Invite your friends to read the book with you. Instead of book club membership fees, ask your book club members to make a donation to Tahirih Justice Center. Once you've finished the book, get together to talk about it, using Layli's 20th Anniversary Book Discussion Questions as a guide. You can also start your very own book club fundraising website. From there you can invite your friends to join you and collect donations to help courageous women like Fauziya access justice through our Ready to Soar Expansion Campaign.

PRAISE FOR "DO THEY HEAR YOU WHEN YOU CRY"
"Moving and powerful though this story is, it exposes such unremittingly grim truths that is impossible to close the book and feel at peace."
— Newsweek
"A fast-paced, can't-put-it-down book — shock, heartbreaking, and inspiring."
— Booklist
"This riveting story is essential reading for anyone concerned about human rights, about U.S. immigration policy, and about making America a country of liberty and justice for all."
— Sara Paretsky, author of Ghost Country
Start My Fundraising Book Club Today
— #SheSoars, #WeSoar —